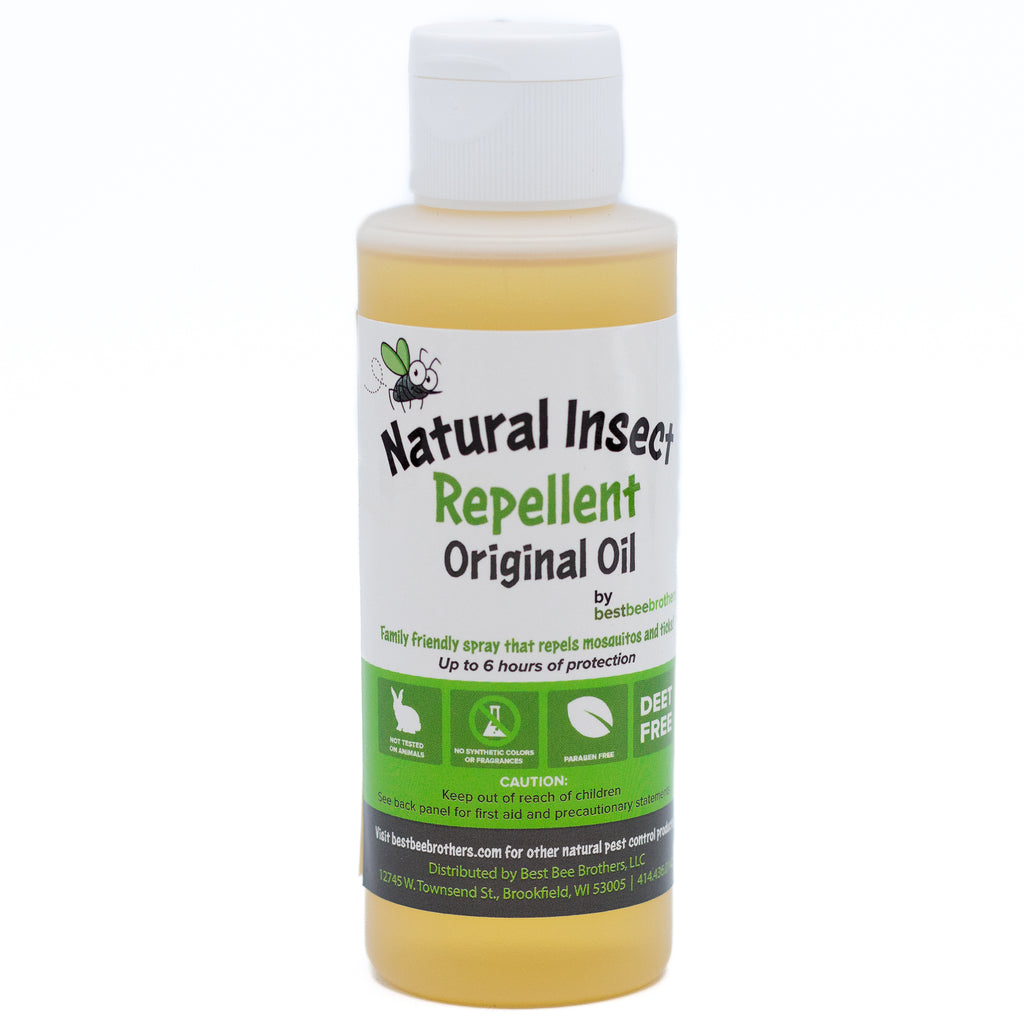 Natural Mosquito & Tick Repellent – Original Oil
Our mosquito repellent made with essential oils keeps those annoying mosquitoes and ticks away so you can enjoy the outdoors.
Why We Love It:
It's time to ditch the DEET! Making the most of your outdoor experience doesn't have to mean slathering on harsh chemicals. Our mosquito and tick repellent made with essential oils utilizes a proven insect-repelling combination of natural lemongrass, geranium and peppermint essential oils to deter biting, bothersome bugs.
Uniquely formulated to repel mosquitoes and ticks without toxic chemicals
Natural ingredients
DEET and paraben free
No synthetic colors or fragrances
Packable 4oz bottle with an easy-open flip-top cap is perfect for travel
Long-lasting protection for hours at a time
Enjoy your favorite outdoor activities, including hiking, fishing, camping, golfing, picnicking and barbecuing without having to worry about swatting mosquitoes. Apply our mosquito and tick repellent essential oil anytime you're outside, and keep those troublesome pests away.
How to Apply Mosquito and Tick Repellent – Original Oil:
Apply our mosquito repellent essential oil to dry skin. Shake the bottle thoroughly and add a few drops of oil to your cupped palm. Rub the oil onto exposed skin, being mindful to avoid your eyes and mouth. Repeat this process until all desired areas have been treated, and voila – enjoy peace of mind, knowing you're protected. Don't forget to wash your hands thoroughly with soap and water after applying though!
Tips for Best Use:
To maximize protection against ticks, we recommend reapplying a protective layer every 2 hours. For use against mosquitoes, reapply every 3-6 hours as needed.
NOTE: Separation of solution is normal. Before applying oil, shake the bottle thoroughly.
Ingredients:
Active Ingredients:
Lemongrass oil
Geranium oil
Peppermint oil
WARNING: Even though this product contains naturally derived ingredients, keep the bottle out of reach of children. If the spray is swallowed, call poison control or a doctor immediately for treatment advice. Do not induce vomiting without being told by a medical professional. If skin irritation occurs, stop use immediately and clean skin. We recommend a patch test before use. Do not use the product if you are allergic to any of the ingredients. Avoid contact with clothing, as products may stain delicate fabrics.
PET SAFETY: Most essential oils are not safe for use on pets, especially when applied directly to their coats. Some oils are great at repelling summertime pests but are also considered highly toxic to your furry friends and are generally best avoided altogether. You may use our All-Natural Mosquito and Tick Repellent – Original Oil around your pets, but please do not use it ON your pets.
---
Trustpilot Reviews