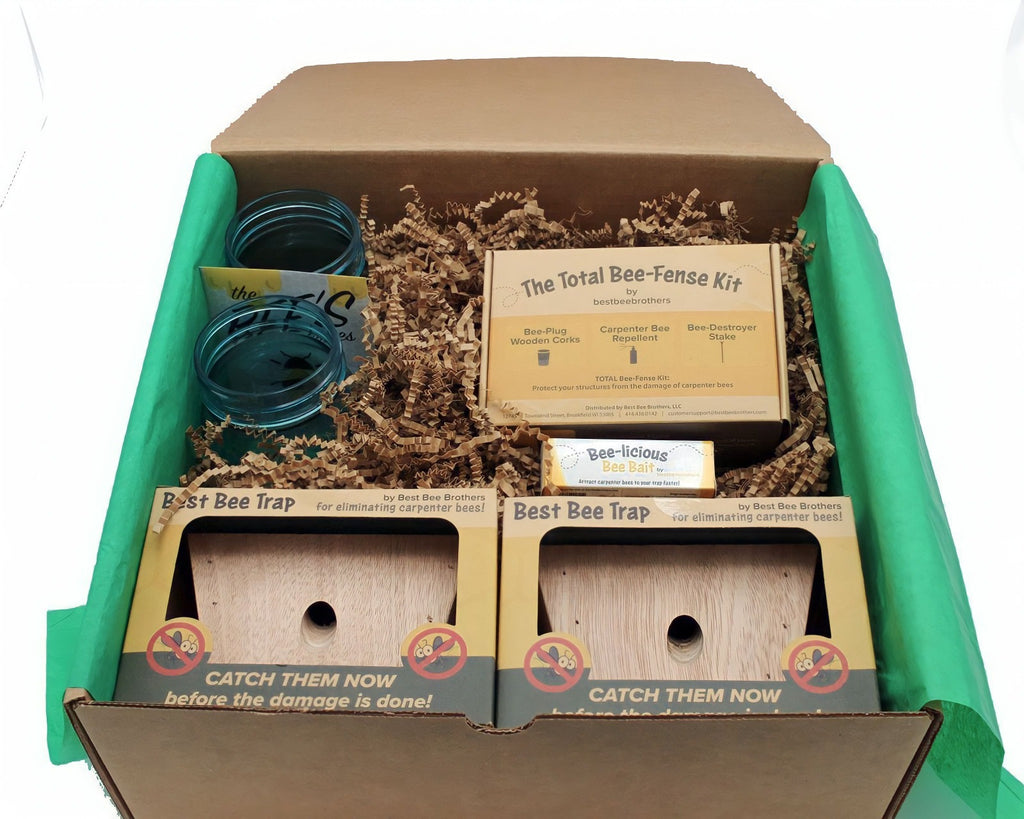 Carpenter Bee Trap Gift Box
You Save: 19%
The Total Bee-Fense carpenter bee trap gift box is an all-in-one solution to carpenter bee infestations that makes a great gift for those hard-to-buy-for homeowners.
Why We Love It:
If you're serious about tackling carpenter bees, or know a homeowner battling a carpenter bee infestation, the Total Bee-Fense Gift Box is a great all-in-one kit to control bees today, without harmful chemicals. Try our effective, money-saving, all-in-one gift box and get everything you need to rid your home of carpenter bees this season. The kit includes:
(2) Patented Best Carpenter Bee Traps

Proven bio-behavioral design, an internal funneling system and a spring-loaded release door make these best-selling traps the most advanced on the market.

(1) Tube of BEE-Licious Bee Bait

Our proprietary bee bait formula was developed to attract carpenter bees to your trap. That means more bees where you want them, and fewer bees drilling holes into your home.

This three-in-one home defense kit includes our citrus spray, Bee-Destroyer Stake for excavating and removing any existing larvae inside the nest, and (8) large and small rubberized Hand Dipped Wooden Corks to plug existing nests and discourage future carpenter bee boring.

(2) Plastic Mason Jars & a Wildflower Seed Pack

Once you've got your carpenter bee problem under control, toast yourself for your hard work with a cold beverage out on the patio in these food-safe plastic mason jars. Or drill a couple of drainage holes in the bottom to plant some seeds to attract pollinators, with your Bee's Knees wildflower seed pack. 
As a special thank-you, each Total-Bee Fense Gift Box also includes a coupon code for 20% off the recipient's next order from bestbeebrothers.com!
How to Use Your Kit:
Using the Total Bee-Fense Gift Box to remove carpenter bees is a great way to handle existing nest issues and prevent future problems. Once you've identified the nests, we'll break down how you can rid your home of existing carpenter bee nests in just four simple steps while directing them toward your new Best Bee Brothers carpenter bee traps.
Step 1: Use Your Total Bee-Fense Kit
Spray the citrus carpenter bee spray 3–4 times into each nest hole. If you notice activity around the nest, we advise waiting until the bees are less active. Holding off until after the sun has gone down is generally a good bet, since carpenter bees are not as active at night.
It's also worth noting that most of the carpenter bees you do see are males, who are not capable of stinging. However, if provoked thoroughly enough, males will become aggressive in dive-bombing you, and in extreme cases, the female will emerge from the nest, and she can sting you.
Wait 4–5 minutes to observe whether any carpenter bees emerge. If you're confident the nest is empty, proceed to step C.
Insert and twist the Bee-Destroyer Stake into each hole several times, as far as it will reach, in a reaming motion. This will destroy any existing pollen plugs, which is where carpenter bee larvae can be found.
Finally, after you've cleared the nest out, it's time to seal it up. Insert a Hand Dipped Wooden Cork, placing the rubberized end into each hole to fill the entrance and create a barrier that carpenter bees can't chew through. You'll want to continue pushing the bee plug into the hole until the outer end of the cork is flush with the exterior wooden surface, or as near to flush as possible. Stain or paint to match the existing exterior finish.
Step 2: Add the BEE-Licous Bee Bait to Your Trap
Making use of your carpenter bee trap bait could not be easier. Apply a dime-sized amount of BEE-Licious Bee Bait to the collection chamber of your trap (where the dead carpenter bees are stored). That's it! No need to rub it in or get any goop on your hands.
We're really proud of all the science that's gone into developing our proprietary BEE-Licious Bee Bait formula – and we're even more proud of the results our customers have shared with us! But this product is meant to work in conjunction with your existing carpenter bee trap. That is, if your trap isn't hung in a suitable location, no amount of bee attractant is going to help.
Step 3: Hang Your Best Carpenter Bee Trap
Our field-testing has proven that our carpenter bee box traps are simply more effective when hung up high in areas that receive plenty of sunlight. That's why eaves and roof overhangs make great places to hang Best Bee Brothers traps. If you're using both traps at once, we recommend about 15 ft. between them.
Each best carpenter bee trap includes everything you'll need for installation: a hook, a washer, and a 9 ft. pull string to quickly and efficiently empty the spring-loaded release door. No assembly required means the install is quick and easy – just screw the mason jars into place (with your BEE-Licious Bee Bait inside), hang it up high, and let the trap do the rest.
When the Best Carpenter Bee Trap is not in use, preserve it for future seasons by storing it in a shed or garage throughout the winter months.
Step 4: Apply Citrus Spray
Point, aim and shoot – simple, right? Getting the most out of your citrus carpenter bee spray doesn't have to be overly complicated. Reapplying a generous coat to your outdoor furniture, railings or other wooden surfaces every few days during carpenter bee season will offer the maximum amount of protection, with one exception. While it is tempting to want to combine your carpenter bee traps and your new citrus spray, please do not! We repeat: DO NOT APPLY your citrus spray to your carpenter bee traps.
Please also note that while our citrus spray consists of only naturally derived ingredients, this product is not intended for direct application on human skin.
Ingredients:
BEE-Licious Bee Bait – Active Ingredients
Dried Bee Parts and Pheromones

Water

Other
Citrus Spray - Active Ingredients
Lemongrass Oil

Citronella Oil
WARNING: Even though this product contains naturally derived ingredients, keep the bottle out of reach of children. If the spray is swallowed, call poison control or a doctor immediately for treatment advice. Do not induce vomiting without being told by a medical professional. If accidentally applied to skin, stop use immediately and clean skin. Do not use the product if you are allergic to any of the ingredients. Avoid contact with clothing, as products may stain delicate fabrics.
PET SAFETY: Most essential oils are not safe for use on pets, especially when applied directly to their coats. Some oils are great at repelling summertime pests, but are also considered highly toxic to your furry friends. Citronella is toxic to dogs and other pets. Please keep the citrus spray away from grass or other areas your pets may walk, sniff, lick or eat.
---
Trustpilot Reviews