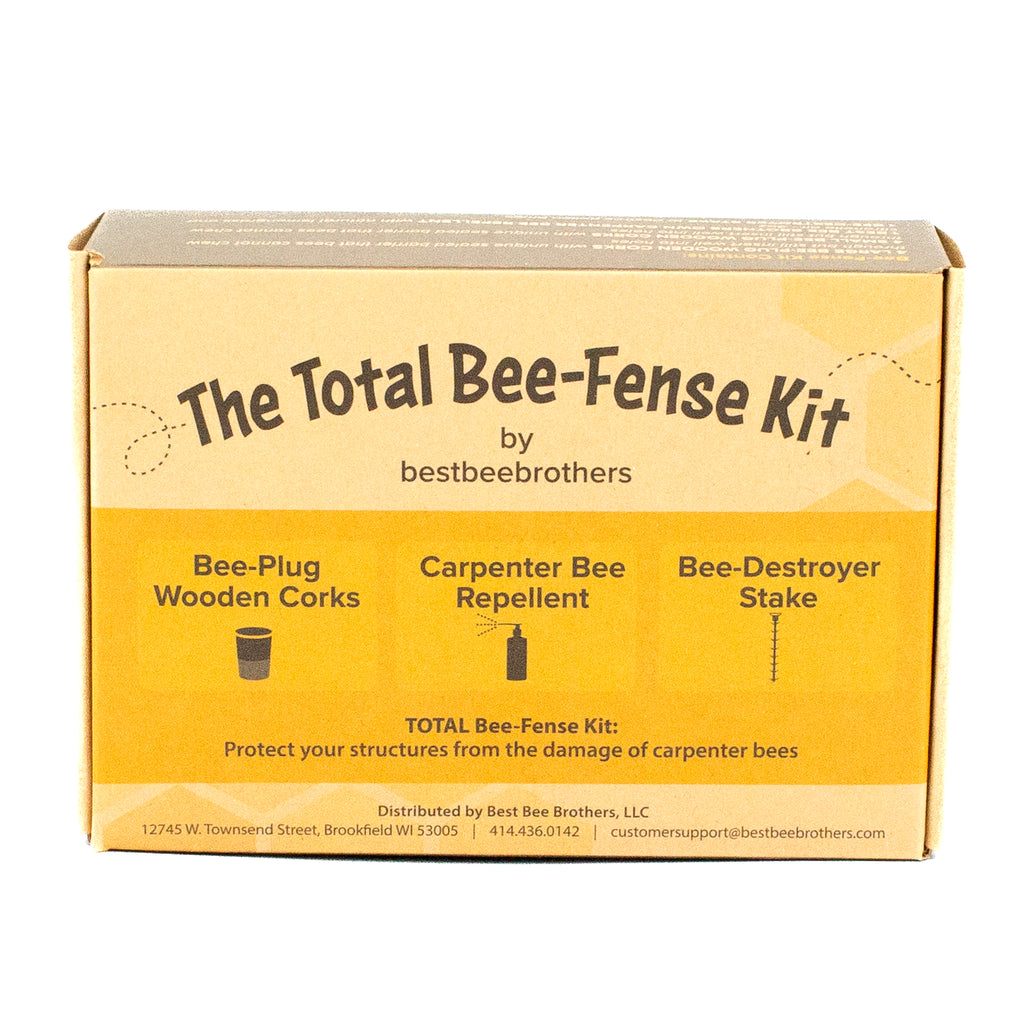 Total Bee-Fense Kit for Carpenter Bees
The Total Bee-Fense Kit for Carpenter Bees is designed for those struggling with an existing carpenter bee problem, and includes everything you need to seal existing carpenter bee holes and repel future bees from invading them.
Why We Love It:
Carpenter bees would rather move into an existing nest than build a new one. If they have access to old nests, they will ignore your carpenter bee trap. To direct new bees toward your trap, you'll need to seal old nesting sites and offer a strong incentive not to return. Breaking the nesting cycle increases the likelihood of luring carpenter bees directly into your trap. That's why you need our Total Bee-Fense Carpenter Bee Kit!
Our Total Bee-Fense Carpenter Bee Kit includes:
(8) Hand Dipped Wooden Corks: Our hand-dipped, rubberized wooden corks help seal off existing nests. Our Hand Dipped Wooden Corks come in two sizes, large and small, which cover the average sizes of a carpenter bee holes

(4) Large Hand Dipped Wooden Corks (bee plugs)
(4) Small Hand Dipped Wooden Corks (bee plugs)

(1) Best Bee Brothers Carpenter bee Repellent - 50ml (1.7 fl oz)

Our field tested, bio-behaviorally designed citrus carpenter bee spray uses lemongrass and citronella essential oils proven to repel and deter carpenter bees.

(1) Bee-Destroyer Stake

Use the stake to excavate and remove any existing larvae inside the nest.
Note: You'll automatically save 20% when compared to purchasing the natural carpenter bee repellent and Hand Dipped Wooden Corks separately. Plus, you get the Bee-Destroyer Stake!
Instructions for Your Total Bee-Fense Kit:
Once you've located carpenter bee nests around your home, using your carpenter bee removal kit is a great way to handle them. In just four simple steps, we'll show you how to rid your home of existing carpenter bee nests and direct them toward your favorite Best Bee Brothers carpenter bee traps (sold separately).
Step One:
Spray the citrus carpenter bee spray 3–4 times into each entry hole of the carpenter bee nests you've located. If you notice activity around the nests, wait until the bees are less active. Holding off until after sundown is generally advised, since carpenter bees are not as active at night.
It's also worth noting that most of the carpenter bees you do see buzzing around are males, which are not capable of stinging. However, if provoked enough, males will become aggressive in dive-bombing you, and in extreme cases, the female will emerge from the nest, and she can sting.
Step Two:
Wait 4–5 minutes to observe whether any carpenter bees emerge.
Step Three:
Once you feel confident that the nest is empty, insert the Bee-Destroyer Stake into each carpenter bee hole several times, as far as it will reach. This will destroy any existing pollen plugs, which is where carpenter bee larvae can be found. The Bee-Destroyer Stake works most effectively if inserted and twisted at the same time to ream the inside of the nest and crush any larvae.
Step Four:
Finally, it's time to seal up the nest for good. Insert a Hand Dipped Wooden Cork, placing the rubberized end into each nest hole to fill the entrance, creating a barrier that carpenter bees can't chew through. You'll want to continue pushing the wooden cork into the hole, until the rubber is flush with the adjacent wooden surface, or as near to flush as possible. Be sure to refinish or repaint the surface to match the existing exterior.
Getting the Most Out of the Total Bee-Fense Kit for Carpenter Bees:
To get the most out of your carpenter bee kit, there are a few things to keep in mind. Before applying the natural carpenter bee repellent, be sure to shake the bottle thoroughly several times – the separation of oils is normal. Our citrus carpenter bee spray is effective, but if you spray it in the wrong place, you'll undo all your hard work. When applying the carpenter bee repellent, be sure never to spray your existing carpenter bee traps. This will keep bees away from your traps and make the siding of your home or other wooden surfaces more appealing.
Finally, while the citrus spray does contain naturally derived ingredients, it is not intended for application on humans or pets. If you're pulling out your trusty carpenter bee repellent, make sure to apply it to wooden surfaces only.
Ingredients:
Active Ingredients:
Lemongrass oil 24.7%
Citronella oil 1.9%
WARNING: Even though this product contains naturally derived ingredients, keep the bottle out of reach of children. If the spray is swallowed, call poison control or a doctor immediately for treatment advice. Do not induce vomiting without being told by a medical professional. If accidentally applied to skin, stop use immediately and clean skin. Do not use the product if you are allergic to any of the ingredients. Avoid contact with clothing, as products may stain delicate fabrics.
PET SAFETY: Most essential oils are not safe for use on pets, especially when applied directly to their coats. Some oils are great at repelling summertime pests, but are also considered highly toxic to your furry friends. Citronella is toxic to dogs and other pets. Please keep the citrus spray away from grass or other areas your pets may walk, sniff, lick or eat.
Helpful Blog Posts and Videos:
---
Trustpilot Reviews