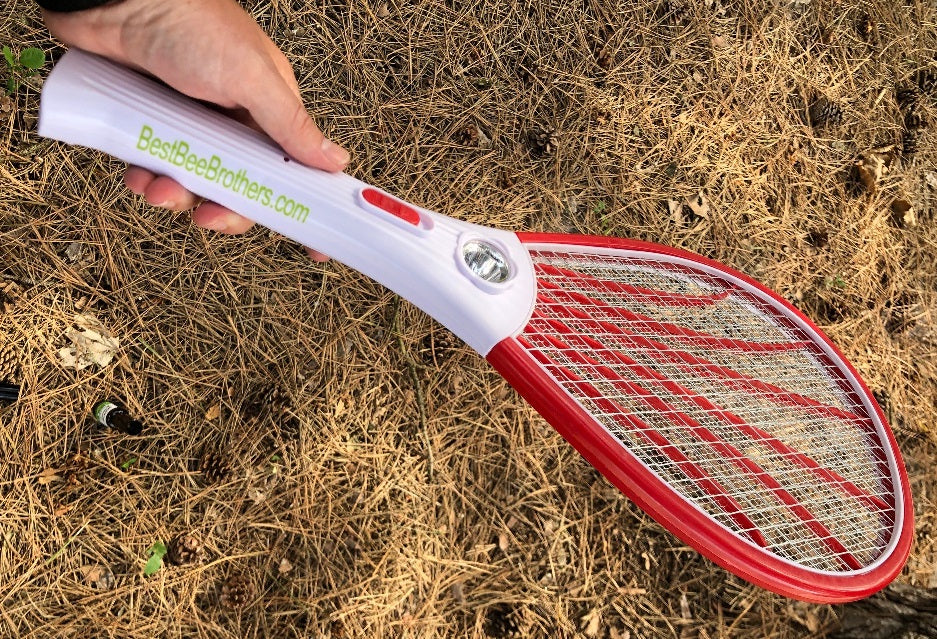 Bug Zapper Racket
The electric Bug Zapper Racket delivers a powerful shock and swat to flying pests of all kinds, including carpenter bees, mosquitoes, flies and other irritating insects.
Why We Love It:
Capable of handling anything from mosquitoes and biting flies to those dive-bombing male carpenter bees, our sturdy Bug Zapper Racket is ready when you are to take back control of your outdoor living areas.
Great for mosquitoes, flies, carpenter bees and other flying insects
Built-in charging prongs – no wires or cords needed
LED flashlight encased in handle for low-light pest removal
Dual power setting for controllable shock output
Full charge for 6–10 days of use
Power switch and activation button for increased safety when in use
6-month Best Bee Brothers guarantee
Charge voltage: AC110-AC220V/50Hz-60Hz
Work voltage: 1100V-2200V
How to Use It:
To use the Bug Zapper Racket, simply slide the power switch to the "On" position to engage the standard power level. If you're looking for a little bit more "oomph," push the switch up one more notch to increase the shock power. Once a target is located, press the activation button on the side of the handle to power the metal netting. Release the activation button when not actively pursuing targets.
Charging:
The Bug Zapper Racket is rechargeable. To charge, simply slide the power switch to the "Off" position. A full charge requires 6–8 hours of charging. Once charged the racket is ready to use for up to 10 days.
Includes 6-Month Guarantee! Best Bee Brothers guarantees this product is free of defects and damage, based on proper usage and handling.
Getting the Most out of Your Bug Zapper Racket:
This device delivers a powerful electric shock and is NOT suitable for children. Do not press the activation switch and touch the net when the racket is fully charged. Do not use near flammable gases or liquids, or use metal objects on the net. Do not wash or scrub netting. Use a brush or shake off dead bugs. If racket is not in use for 3+ months, make sure to fully charge before use. Turn switch to "Off" position when not in use. Store in a dry location.
Helpful Blog Posts and Videos:
---
Trustpilot Reviews